TK/AC
TK/AC Direct-Attach Wall Panels are an economical, lightweight tackable panel with moderate sound absorption and blocking capabilities. They are ideal for display areas, meeting rooms, schoolrooms or in any place that requires tackability and moderate sound absorption at a value.
Use for:
Display areas, Meeting rooms, School rooms
NRC: 0.35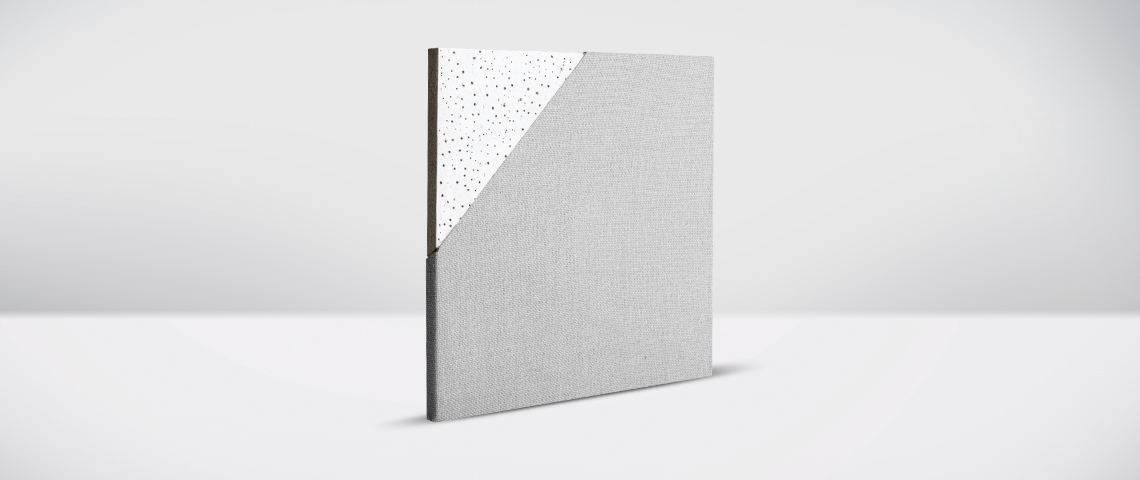 Core construction
Single core construction of high-density perforated mineral board, 1⁄2" or 5⁄8" thick, covered with custom fabric that is completely adhered to the face of the panel and returned to the back for a full finished edge. All corners are fully tailored.
Thickness options
• 1⁄2"
• 5⁄8"
Max sizes
Standard max: 4' x 10'
Finishes
We partner with the top fabric suppliers in the industry so that we can give you the best options when bringing your designs to life. We offer several fabric lines and colors from Carnegie. Below are some of the most popular ones used by our customers.
Application details
Acoustic performance
---
NRC
5⁄8" = 0.35
Product features
---
Edge details
Available choices include:

Square

Half Radius

Half Bevel

Kerf/Square
Mounting
Standard mountings:
• (MB) Impaling clips / perimeter adhesivem
• Concealed spline
• Ceiling grid system
• Z-Clip plate to DW bracket
Shapes:
−
Additional properties
---
Impact resistant:
−
Scratch resistance:
−
NAF:
−
Washable:
−
Warranty:
3 years from date of shipment received.
Initiatives
Conwed is committed to driving sustainability wherever possible. By streamlining our processes and using recycled materials in our products, we strive to decrease our environmental impact. Our materials are certified by leading social responsibility groups and are helping us pave the way toward a more sustainable future.
For your LEED® projects, our products can help you qualify for different points depending on the product you choose. Contact us to learn more detailed information.