Loaded Vinyl Panels
Loaded Vinyl Panels are designed to stop unwanted sound transmission while absorbing ambient noise. Use for speech privacy in offices, meeting rooms or patient consultation areas, as well as a general sound barrier for traffic or industrial noise.
Use for:
Offices, Meeting rooms, Patient consult areas
NRC: N/A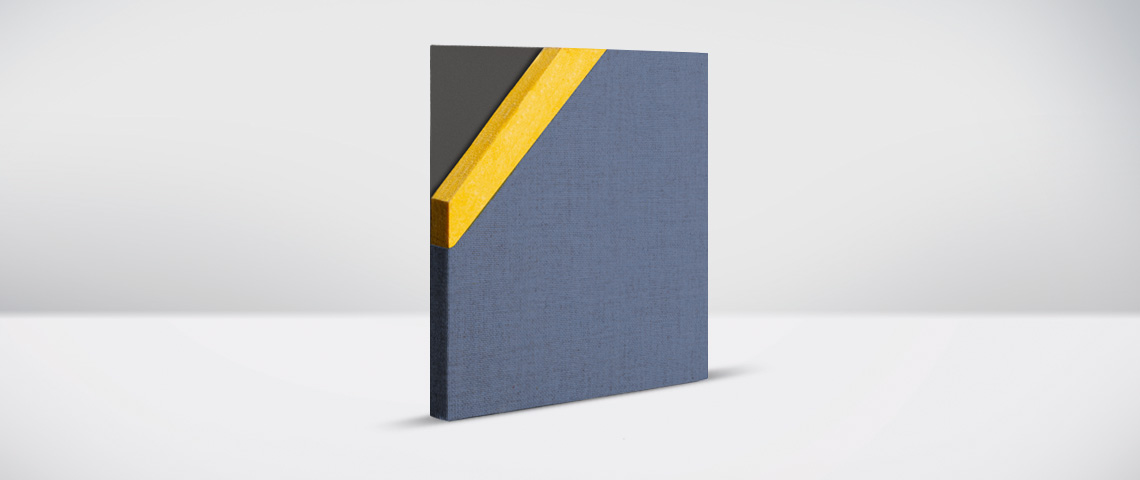 Core construction
Dimensionally-stable 6-7 PCF fiberglass board, backed with a 1⁄8" loaded vinyl barrier, fully adhered to the fiberglass. Optional 1⁄8" 16-20 PCF molded fiberglass face offers additional impact resistance. The panel is covered with custom fabric that is completely adhered to the face of the panel and returned to the back for a full finished edge. All corners are fully tailored. Edges are protected with resin hardening.
Thickness options
• 1"
• 1 1⁄2"
• 2"
Max sizes
Width: 4'
Length: 8'
Overall: 16 sq. ft.
Finishes
We partner with the top fabric suppliers in the industry so that we can give you the best options for finishing your designs. Click below to view our fabric finish brochures.
Application details
Acoustic performance
---
NRC
N/A
Product features
---
Edge details
All edges are resin hardened, unless otherwise specified.
Available choices include:

Square

Radius

Bevel
Mounting
Standard mountings:
• Z-Bar to Z-Bar
Shapes:
−
Additional properties
---
Impact resistant:
−
Scratch resistance:
−
NAF:
✔

for 1" and 2"
Washable:
✔
Warranty:
3 years from date of shipment received.
Initiatives
Conwed is committed to driving sustainability wherever possible. By streamlining our processes and using recycled materials in our products, we strive to decrease our environmental impact. Our materials are certified by leading social responsibility groups and are helping us pave the way toward a more sustainable future.
For your LEED® projects, our products can help you qualify for different points depending on the product you choose. Contact us to learn more detailed information.