Gridlock
Gridlock Ceiling System is designed for quick and easy lift-and-shift removal. The panels offer a full range of fabric options, Foundations texture, and factory painted finishes. They also feature a 1⁄4" defined reveal between panels.
NRC product range: 0.80 - 1.05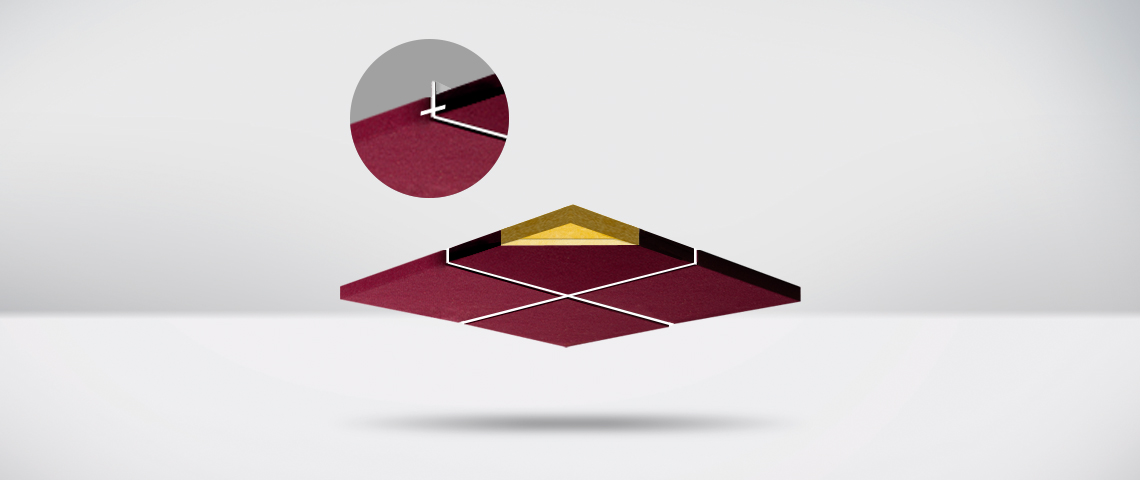 Core construction
Dimensionally-stable 6-7 PCF fiberglass board, laminated with a layer of 1⁄8" 16-20 PCF molded fiberglass. Depending on finish requirements, panels can be covered in fabric, painted in any custom color, or left with a "soft drywall" foundations finish. Edges are protected with resin hardening.
Thickness options
• 1"
• 1 1⁄2"
• 2"
Max sizes
Generally 6" increments from 24" x 24" up to 48" x 48" and 30" x 60"
Application details
Acoustic performance
---
NRC
1" = 0.80

,

1 1⁄2" = 0.95

,

2" = 1.05
Product features
---
Edge details
All edges are squared and resin hardened.
Mounting
Lift-and-shift mounting requires standard 15⁄16" ceiling grid by others. Panels are individually removable and do not require head room above the grid for installation or removal.
Shapes:
−
Additional properties
---
Impact resistant:
−
Scratch resistance:
−
NAF:
✔

for 1" and 2"
Washable:
−
Warranty:
3 years from date of shipment received.
Initiatives
Conwed is committed to driving sustainability wherever possible. By streamlining our processes and using recycled materials in our products, we strive to decrease our environmental impact. Our materials are certified by leading social responsibility groups and are helping us pave the way toward a more sustainable future.
For your LEED® projects, our products can help you qualify for different points depending on the product you choose. Contact us to learn more detailed information.