Access Torsion Spring Ceiling System
Access Torsion Spring Ceiling System has an incredibly uniform look with easy to use downward-hinged access panels. This completely hides the suspension system, maintains proper panel alignment, and allows your design to be completely custom. This system shines in large public spaces where access to mechanical equipment, network trays, and electrical is needed on a regular basis.
NRC: 0.90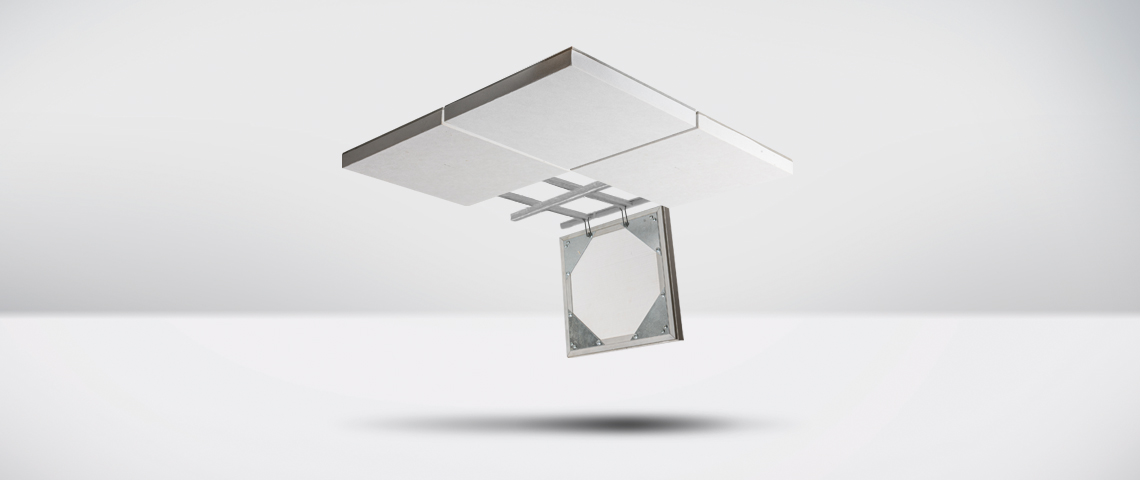 Core construction
Dimensionally-stable 6-7 PCF fiberglass board with a 1⁄8" 16-20 PCF molded glass facer. All system components are rust-free aluminum and galvanized steel to minimize maintenance.
Thickness options
• 1 1⁄8"
Max sizes
• Standard max : 4′ x 4′ to 4′ x 10′
Finishes
All Access Torsion Spring Ceiling Systems are finished with scrim, offering a discrete "soft drywall" look. Additionally, any color from the Sherwin-William's paint catalog can be applied for added flexibility.
Explore hundres of swatches at:


Application details
Acoustic performance
---
NRC
1 1⁄8" = 0.90
Product features
---
Edge details
Fully framed edges are slightly beveled to create a discrete and attractive 1⁄8" reveal between panels.
Mounting
Standard mountings:
Torsion spring mounting. Grid mains and spacer bars provided (attached by others*).
Shapes:
−
Additional properties
---
Impact resistant:
−
Scratch resistance:
−
NAF:
✔
Washable:
−
Warranty:
3 years from date of shipment received.
Initiatives
Conwed is committed to driving sustainability wherever possible. By streamlining our processes and using recycled materials in our products, we strive to decrease our environmental impact. Our materials are certified by leading social responsibility groups and are helping us pave the way toward a more sustainable future.
For your LEED® projects, our products can help you qualify for different points depending on the product you choose. Contact us to learn more detailed information.